29 July was Earth Overload Day. This is the day in the year on which mankind has used up the annual renewable resources. Accordingly, we would need 1.7 Earths to satisfy our consumption. Unfortunately, this is not possible, because a second earth has not yet been found. Nevertheless, there are ways and possibilities to relieve our planet. By Sabine Slaughter
In the field of packaging and labels, there are still a lot of plastics and/or products containing plastics in circulation. However, these can usually be replaced by sustainable ones. New types of packaging and labels are made from renewable raw materials, with other raw materials being used for extraction in addition to the traditional paper and cardboard production processes from wood. The development is progressing steadily and besides grass paper, which celebrated its entry into the market a few years ago, there are now many different materials that give the packaging or label sustainability. Packaging Austria gives a small overview of the current developments.
Wood-based plastic
Woodly, a Finnish company, offers wood-based plastic. A contradiction? No, because this novel plastic is based on softwood cellulose and mimics the properties of conventional plastics. Woodly's main raw material comes from forests managed according to international ecological and ethical standards. Because of its bio-based content, Woodly is a carbon-neutral material that can be used to reduce dependence on fossil materials. Woodly is designed to be recycled in the plastics recycling stream after use. It can also be incinerated if needed.
Several building blocks are required to make plastic from wood. The basic building block of Woodly is cellulose polymer, which is extracted from wood. The cellulose is then modified with various building blocks to make it behave like plastic. These building blocks are inspired by nature and many of them are found directly in nature as parts of plants. The company also uses components from fossil raw materials, as some of the bio-based counterparts are not yet available on an industrial scale.
Currently, Woodly's first generation grades are certified by Tüv Austria as forty to sixty percent bio-based. This is the first step on our way to a one hundred percent bio-based content.
Woodly offers films for both blown film and cast film extrusion lines. The films are clear and transparent and are easily thermoformed. For injection moulded products, the company has the Woodly 200 series in its range. This is easy to colour, impresses with its transparency and clarity and can be used for storage containers and cups, among other things, also in the food sector.
Hemp - stronger than wood pulp
Gmund offers these papers and cardboards for the packaging sector. Since hemp grows much faster than trees (a tree takes seven years to harvest; hemp can be harvested three times a year). As hemp is much stronger than wood pulp - due to the longer fibres - it is particularly suitable for packaging. Of course, hemp is also recyclable and even allows for additional recycling cycles. In addition, hemp fibres are naturally very light and therefore require less bleach. Of course, the feel of these papers and cardboards is not to be sneezed at either.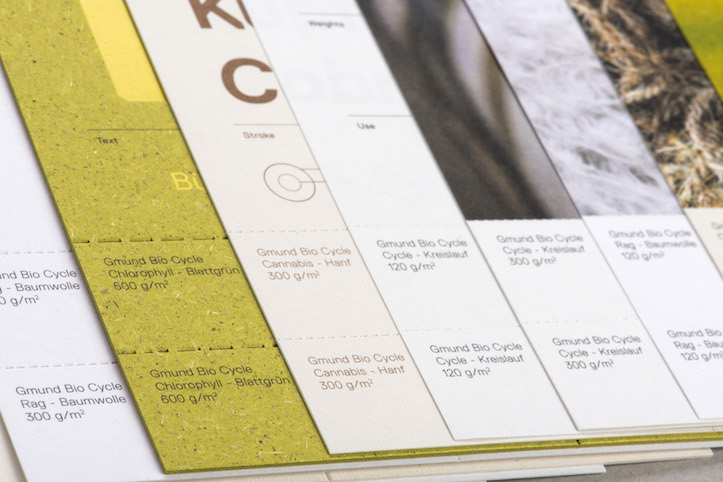 Grass, straw, cotton, cannabis
These are the main ingredients of Gmund Bio Cycle. The green colouring of the paper comes from the addition of natural chlorophyll. It is not only recyclable but can also be composted. The five per cent unprocessed straw provides glossy inclusions and a special feel. With one hundred percent recycled pulp and an elegant cream tone, this paper has a grippy texture and strong durability. In terms of certifications, Gmund Bio Cycle has the Gmund Eco certificate as well as hemp, cotton, FSC certified virgin fibre and recycled pulp. This paper is also available in Germany from Römerturm.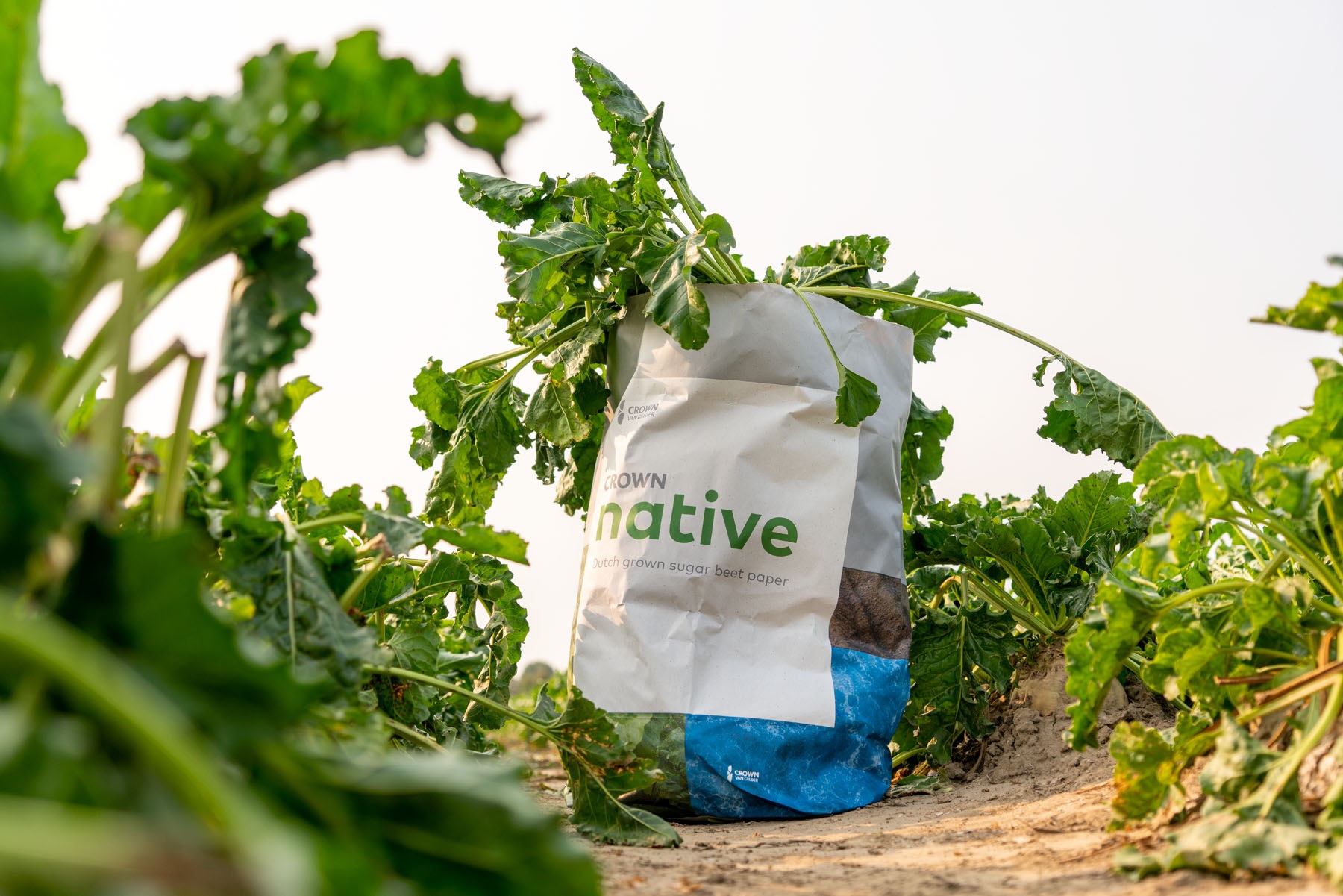 Sustainable sugar beet
Crown van Gelder offers paper and board made from sugar beet. These reduce the environmental impact by 16 percent, according to the company. The sugar beet used all grow within a radius of 150 km around the paper mill. The beet pulp that is left over after processing the sugar beet in the sugar beet factory thus becomes a new product of paper production. The paper and cardboard are fully FDA-compliant and BfR36 approved.
Silphia plant not only for energy production
OutNature, Herma and Etiket Schiller have jointly developed labels from the silphia plant. This plant is actually cultivated for bioenergy production. Now the fibres can be separated and ideally used for paper production in combination with conventional wood pulp. The remaining plant components continue to be used in the form of a fermentation substrate in the biogas plant for energy production.
For paper production, the silphia fibres are prepared using a biothermal process. The individual fibres are then mixed with wood pulp. By dewatering the mixture, an evenly woven fleece is produced. Currently, the paper consists of at least 35 per cent silphia fibres; in the future, the aim is to make it as much as 50 per cent. Like conventional paper, labels made from silphia paper can be recycled in the regular waste paper cycle.
Etiket Schiller is one of the first companies in Germany to offer labels made from this sustainable paper. Individual fibres of the silphia plant are recognisable in the structure of the material - this gives the labels a natural look and special feel. The labels can be printed untreated or given a noble and at the same time natural appearance by additional embossing. Silphia labels can be used in dry and non-humid environments.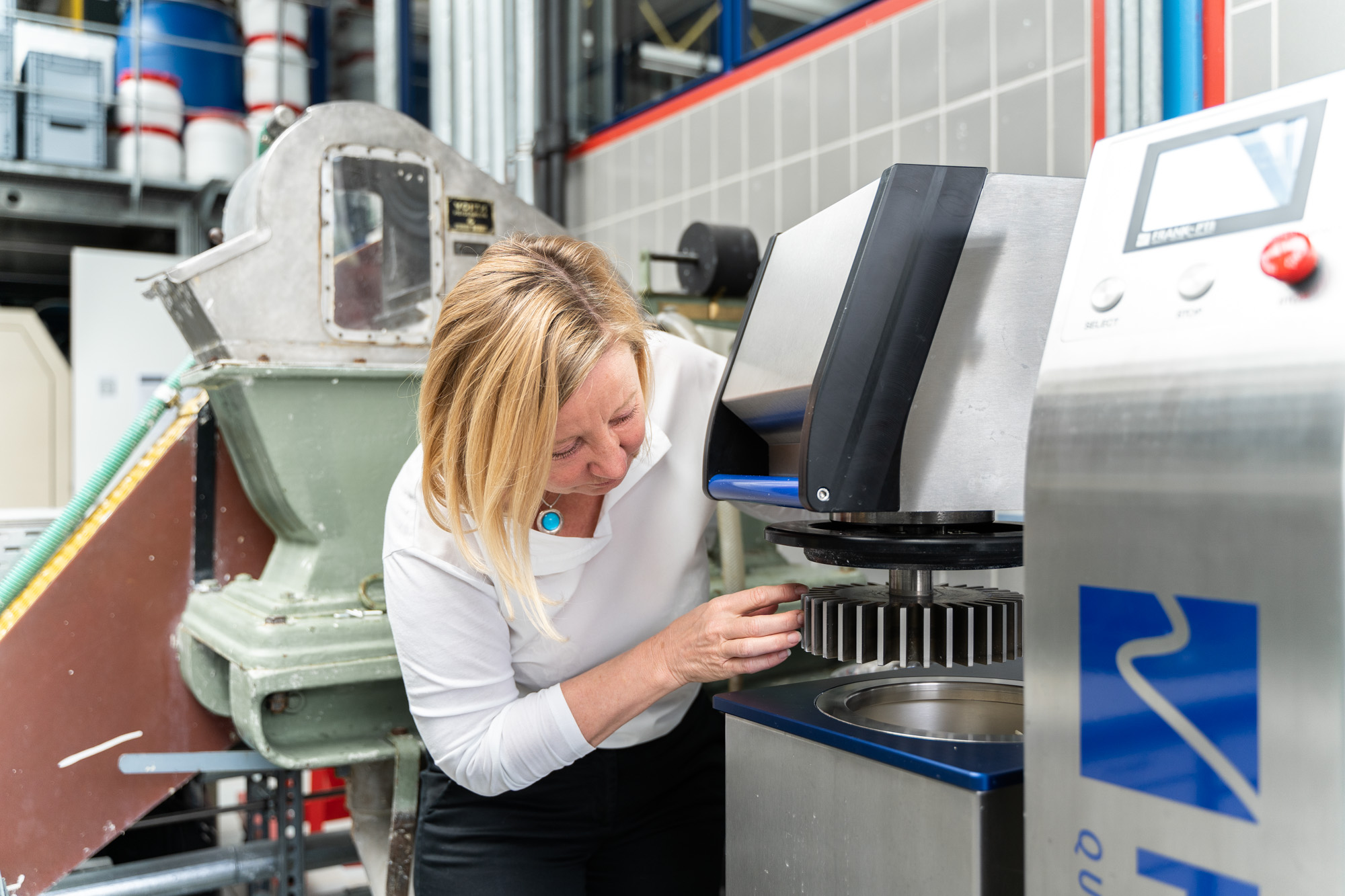 Papers made from asparagus waste
White asparagus has to be peeled. This produces large quantities of natural fibres every year during the asparagus season. According to the Munich University of Applied Sciences, only half of the worldwide asparagus production is used as food. The Munich University of Applied Sciences has developed a process with which fibre material can be extracted from asparagus and then used to produce packaging trays from asparagus waste. As Professor Helga Zollner-Croll explains, the rough surface of berry packaging could possibly even make fleeces and absorbent liners unnecessary.
The asparagus fibres are suitable for the production of paper because they have similar strengths to so-called sulphite short fibres. The individual asparagus fibres are clearly recognisable in the paper, and the light beige colouring reflects the naturalness of the paper. However, the fibre yield is low due to the very high water content of the asparagus spears. Since the asparagus foams during milling, washing the fibres before milling is very important. This reduces the load on the water cycle and increases the tensile strength of the fibres. Which asparagus variety is used for this has a great influence on the milling result.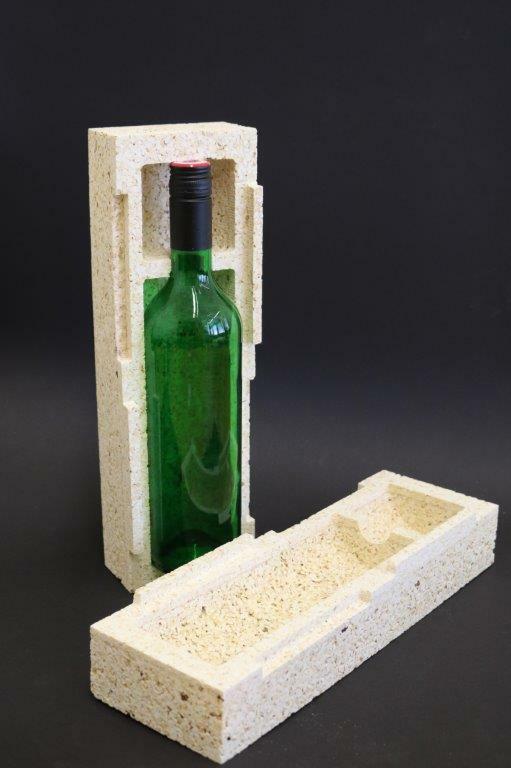 Popcorn as an alternative
Researchers at Göttingen University have developed packaging made of popcorn. These renewable, recyclable, environmentally friendly and biobased raw materials are processed in a new type of procedure, with which three-dimensional moulded bodies can be produced from popcorn granulate.
"This new process, which is based on the plastics industry, can now be used to produce a wide variety of moulded parts," explains the head of the research group, Prof. Dr. Alireza Kharazipour. "Especially for the area of packaging, it can be guaranteed that products are transported safely. And this with a packaging material that is even biodegradable afterwards." In addition, the new popcorn products have water-repellent properties, which increases their possible applications even more."
The University of Göttingen has concluded a licence agreement with the company Nordgetreide for the commercialisation of this process.
Protecting magic mushrooms
As an alternative to polystyrenes and other polymers made from fossil fuels, the British company Magical Mushroom Company (MMC) has compostable protective packaging made from mycelia (mushrooms) in its range. These are made from recycled agricultural waste such as hemp, which is then mixed with mycelium, the woven structure of mushrooms, and pressed into a composite material. Within a few days, the recycled waste bonds with the mycelium to form a sturdy protective package. After use, the fully biodegradable packaging can be disposed of with food waste or composted in the home garden.
According to the company, the packaging performs as well as polystyrene and is cheaper than conventional foamed polymers.