Software is sexy! It can determine whether a company has that one small decisive advantage over the competition. No company can do without this one inconspicuous and invisible component in the production process. By Sabine Slaughter
Software is an indispensable part of every printing operation and process. Without it there are many problems. It can independently point out and identify idle times, time wastage and bottlenecks in production. Complex tasks can be completed with its help, the workflow is streamlined and it can even map entire companies and identify weak points. The little ones and zeros can also control the communication between the machines and ensure that the given commands and jobs are carried out with communication between operator and machine.
Software ranges from pre-press and printing to finishing and postpress and beyond. The scope of application is not limited to the company itself, but can also include subcontractors, suppliers, but also postpress, intermediaries, mail order companies postal services. In short, almost the entire life cycle of a label can be mapped, controlled and, if necessary, streamlined and redesigned.
Today, no company can do without these "little helpers", these efficient and effective programmes. Not only does every machine need to be controlled, but the workflow in particular must run seamlessly, with all the "cogs" in the company meshing together. Ideally, the machines should be able to communicate seamlessly with each other, so-called bottlenecks should be avoided and as little human intervention as possible should be carried out.
The times when files were brought manually from A to B, when everything was entered and set manually at every machine, when analogue job pockets accompanied the order are over. From the creation of a job at the first customer contact to the delivery, a modern label printing company must work cost-effectively and efficiently. No company can do without digital workflows which, in addition to the data transfer of the jobs, can also take over their scheduling, storage, analysis and even machine settings, to name but a few.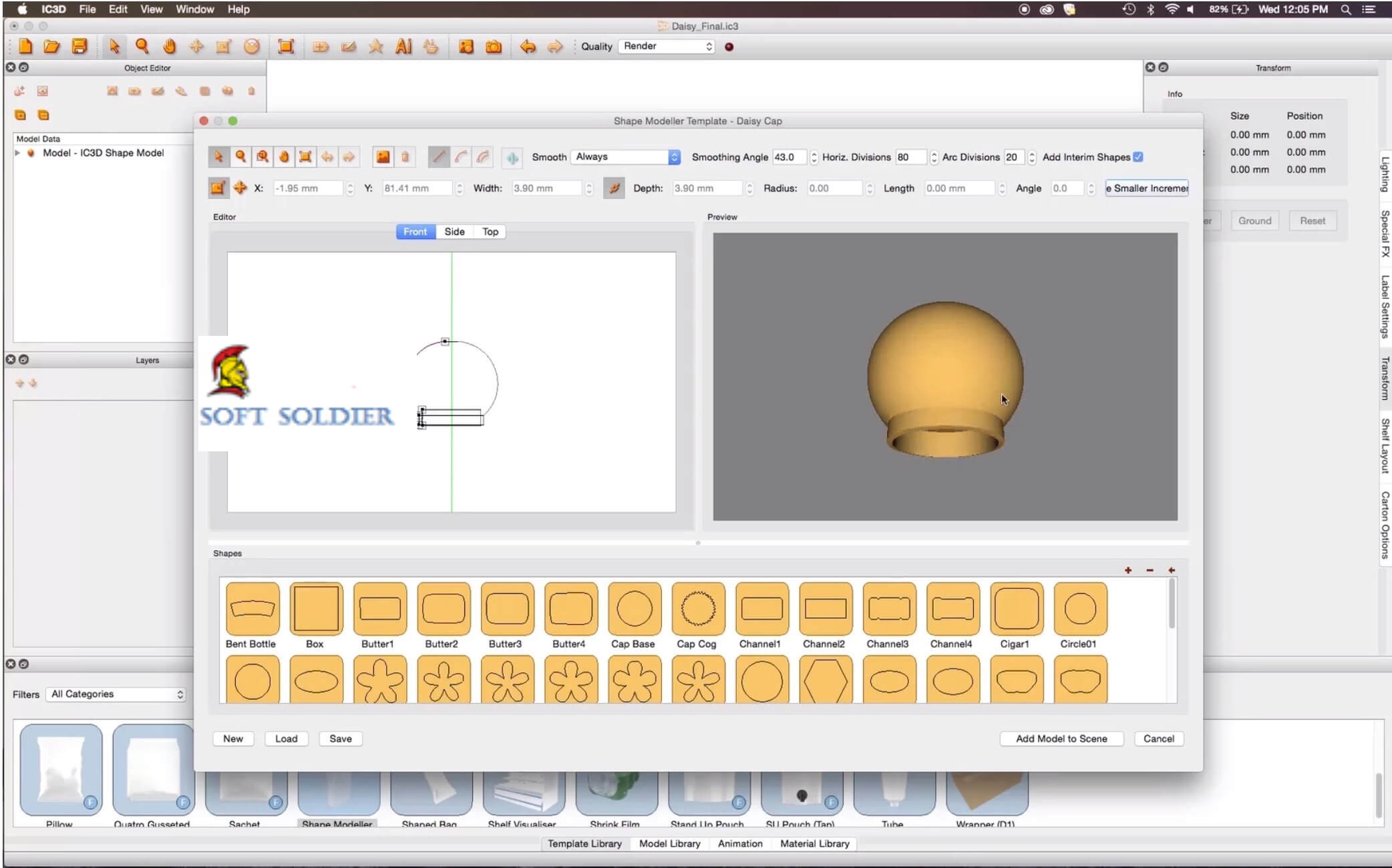 Nowadays, so-called interfaces ensure that all software components and programmes can communicate with each other. The transfer of a job from one software to another or even to a press is nowadays mostly done by means of JDF - a data exchange language - which the printing industry agreed on decades ago. These interfaces ensure that they act as translators, so to speak, and that the data and commands are understood by all those involved in the production process - people and machines - and that all work steps are carried out error-free.
Of course, the digital workflow also generates data: the machines not only take the data they need to execute the order from the digital order bag. Ideally, they also add data - namely, for example, when a job was started and finished, were there any difficulties, what run length was actually printed, how much ink or ink was used and so on.
This not small amount of data can then be retrieved by other software components or even other software programmes from the digital job pocket and thus not only create columns of figures but also visual graphics that show not only the current progress of a job but also of a day or month, etc. This is also a good way to see how efficiently a job has been printed. Here you can also see how efficiently and effectively a company is working, where time is being lost and where there are bottlenecks to be eliminated. Good planning is already excellent, but only with the comparison to the real workload and process can outstanding results be achieved which enable a real calculation and accounting.
A small overview of label software, which, however, does not claim to be complete: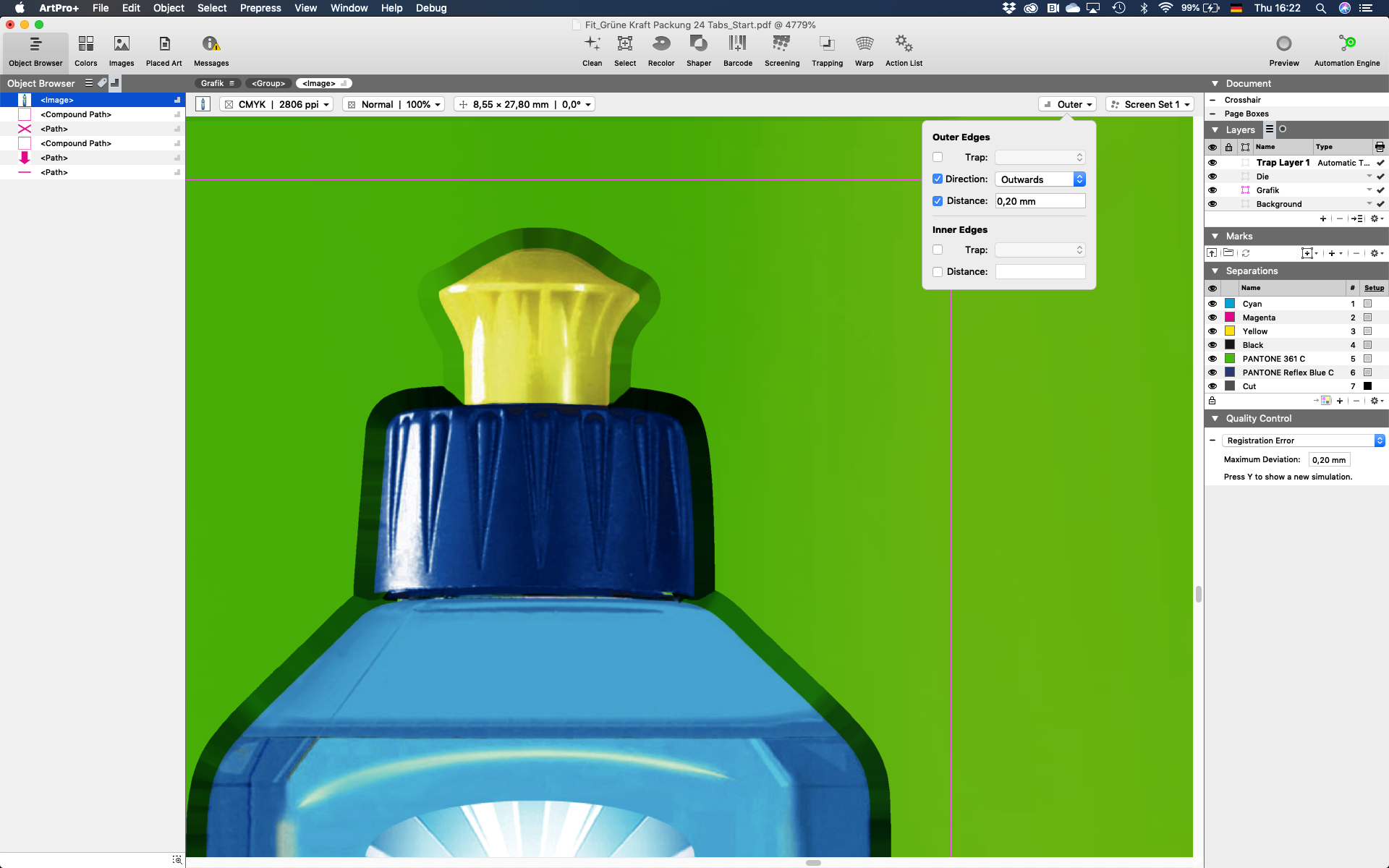 Aniken Graphics: Rasterisation
Aniken Graphics' screening technology called Bellissima offers a colour space extension with 7c printing. This makes it possible to do away with the previous basic rules in flexo printing, such as the representation of motifs with typical flexo dots, so that images without moiré effect are possible. Even multicolour printing of small fonts can be realised with the Bellissima RIP.


BEL Computer Systems: Overprint MIS
The software is designed for flexo, gravure and offset printing. It combines CIM, cost and quotation management as well as production planning and tracking. A module for Web2Print as well as for reports and statistics is optionally available. The system can be operated online. A cloud solution is available. The offline working mode offers later synchronisation with the central database. The system uses data caching algorithms, with general data stored locally on each computer, which results in optimised performance and network usage.
CADlink: Print and cut
Digital Factory RIP software provides a seamless workflow that enables automated production with laser toner printers alongside desktop-sized cutters on a sheet or roll basis.

Cerm: all-encompassing MIS
An all-encompassing MIS (management information system) with integration of all process steps, from prepress to press, finishing is offered. Manufacturers of substrates, media, plates, tools including transport and delivery can also be connected to the software. The company, which is almost exclusively active in the narrow web printing sector, offers eight different modules that combine to form a holistic solution. This allows printing companies to digitise in stages and not have to change everything "overnight". In addition to CRM (Customer Relationship Management), the solution includes modules for quoting, product catalogues, ordering, production, warehousing, shipping, invoicing and Web2Labels. This controls the entire workflow of a label printer and collects real-time data. Interfaces are available for connecting at least 34 partner companies - software as well as machines and finishing. Bottlenecks in production can be identified and avoided with this seamlessly integrated MIS. Especially in times when many more variations of a label are in demand, run lengths are getting shorter and the customer demands fast realisation and delivery, this is the be-all and end-all for efficient production and growth of margins without which no company can survive.
Chili-Publish: Online Editor
Automation and time saving to increase productivity in print data creation are the focus of the label and packaging software. Smart templates allow content to be created quickly with this cloud-based solution. The software can connect to data sources such as DAM, PIM, PLM and others. Barcode generation, a mixed colour function that combines different processing steps into one colour, and a step function in the PDF generator that optimises workflow processes are included. For pharmaceutical industry users, there is GS1-compliant barcode support. The improved barcode integration also extends to the inclusion of PDF417 barcodes.
Creative Edge Software: Finishing Library
A solution for packaging and labels for finishing is offered by iC3D. Among other things, the solution has a digital library of customisable special print finishes, including Fresnel lens as well as holographic effects. High-end print finishing materials such as foils and laminates can thus be provided with effects. According to the company, these give consumers the impression of quality and exclusivity while ensuring an additional level of security for packaged products. In addition, these effects can also be used as a security feature. The photorealistic technology is enabled by the iC3D Ray Tracer, which instantly renders images and effects in high resolution and is essential for accurately conveying the optical effects of the materials due to the use of multiple layers of light reflection and refraction.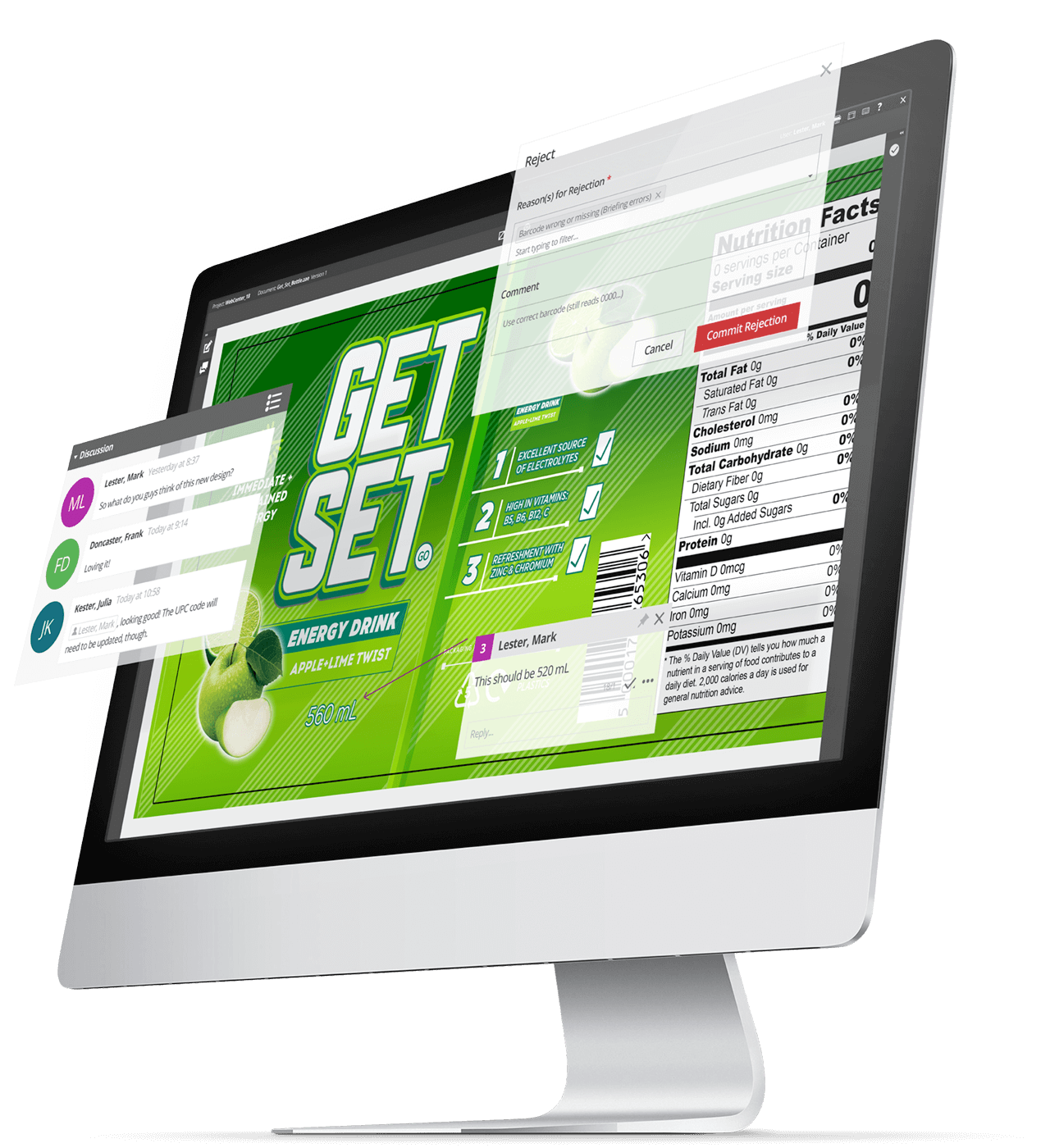 Esko: Cloud Architecture and SaaS
Esko Automation Engine is an automated workflow solution that automates prepress tasks and integrates them with business systems, speeding up the process and reducing errors and the need for operator intervention. Automation Engine includes a "drop zone" feature that makes starting workflows faster and easier by allowing users to pick and choose workflows, drag and drop files onto them, edit parameters and start them - all from one place. As it is a Software-as-a-Service (SaaS), it offers a simple, flexible and transparent pricing model based on service levels with predictable costs that helps with IT budgeting and management. Esko developed Automation Engine SaaS in response to the current challenges of its customers. Share & Approve provides document approval in Esko's cloud architecture. Automation Engine users can upload jobs for all stakeholders. The comprehensive approval module allows for viewing, approval and timely submission of comments and change requests. The software also enables the creation of 3D graphics based on 2D graphic templates, including print effects as well as embellishments. Tools for checking dimensions, detailed zoom functionality, displaying separations and reading barcodes and Braille are just some of the features. For print inspection, Esko introduced the AVT iCenter a few months ago. This makes it easy to manage jobs in terms of quality, production standards across presses, shifts and even plants. The unique cloud-based platform integrates the Esko Automation Engine and the automated AVT Helios print inspection system.
Ethic: CRM and more
According to the company, the specially developed software for label printers is characterised by responsiveness, flexibility as well as dynamism. An intuitive administration ensures the management of all processes from quotation to invoicing. In addition, the programme handles the sales management process and has an integrated CRM. The programme can also be used for merchandise management and inventory management.
Global Graphics: Eliminating quality deficiencies
The software, which covers the company's screen technologies, identifies quality defects in inkjet printing and corrects them based on predefined parameters. PrintFlat and ScreenPro are designed to prevent streaking, spotting and banding. The reproduction closely approximates the output of offset or flexo printing. Designed for digital printing, these two solutions ensure reliable quality production. The Fundamentals module controls the workflow and realises PDF creation for labels and packaging by integrating STEPZ and CLOUDFLOW from Hybrid Software, a Global Graphics company, in addition to this module. Easy step-and-repeat and imposition using Hybrid Software's STEPZ enable calculation and planning of individual or group jobs, as well as previewing or merging variable data into print jobs. Global Graphics' Harlequin RIP is used in many digital press front ends.
GlobalVision: inspection of almost everything
Features include measurement tools, including the ability to measure Braille dot height, and optical character recognition (OCR) integration for spell checking. In addition, the software package includes text and colour verification.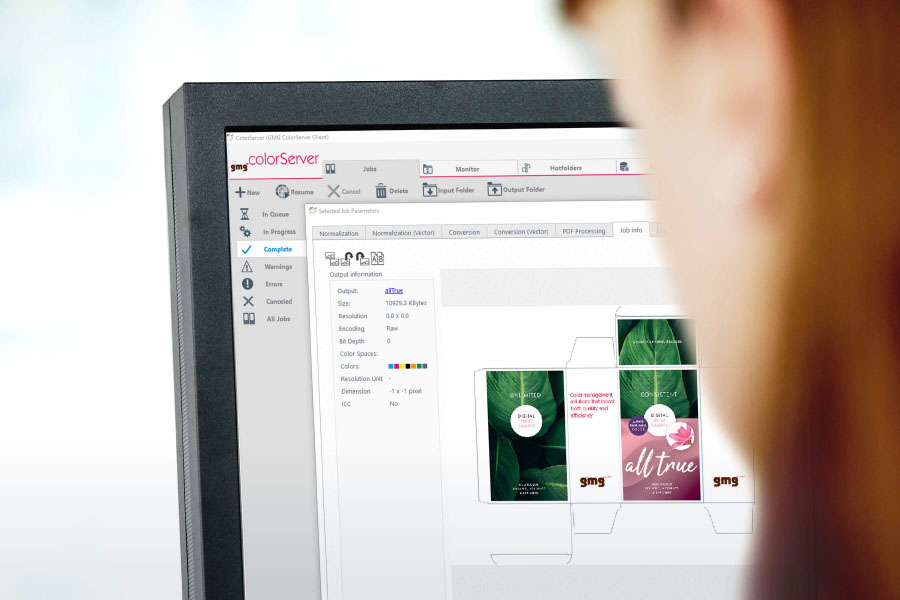 GMG: ColorServer and OpenColor
The company's product range includes the GMG Color Server and GMG ColorProof. GMG ColorServer offers powerful print data conversion and enables exact profiling for conventional printing processes. The GMG OpenColor module has been directly linked to GMG ColorServer, which enables the automatic use of separation profiles in the workflow. Using GMG OpenColor and GMG ColorProof, the company says that production-quality substrates can be used to create packaging samples that "look and feel exactly like the end product". The GMG Calibration Creation Wizard, enables colour-accurate and reproducible proofs on packaging substrates.
Gutenberg: ERP and MIS
A complete MIS with ERP functionality is offered. In addition to customer acquisition and opportunities, this includes calculation and quotations, prepress workflow, printing and finishing, invoicing and control, and quality management. It is already designed for Industry 4.0, as the manufacturer emphasises, and can be easily connected to existing systems and machines via API integration.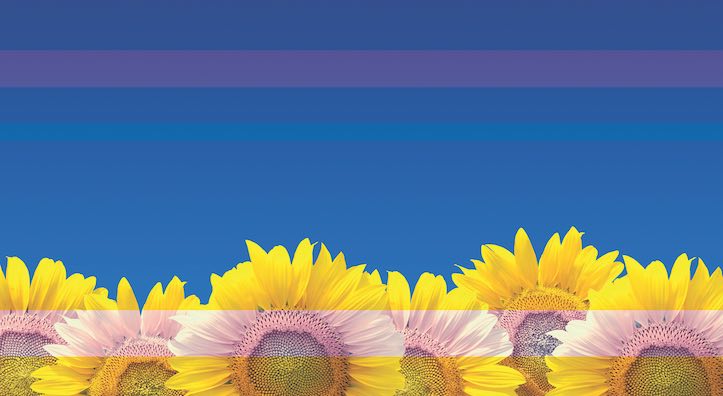 Hybrid software: Cloudflow, Packz and Stepz
The production workflow suite for data processing, asset management, soft proofing and workflow automation for label and packaging companies supports the PDF format, including the job ticket JDF, as well as XML. Colour separations, trapping, screening, proofing are among the tasks of the manufacturer's tools. The open structure and modular architecture is Industry 4.0-capable. Different modules can be combined, depending on customer requirements, to create a seamless workflow. VDP functionality, i.e. the printing of variable data, is also supported. The increasing number of labels that are to be printed individualised or personalised requires a corresponding software that can bring variable data together with the master file in a cost-effective, time-saving and reliable way. This can be text, graphics, images, barcodes or other elements. It is easy to use because the user only has to specify which elements of the label are dynamic and these are then linked to the corresponding data source. An advantage of this solution is that composite files that are already printable are sent to the press, rather than being assembled at the press.
With the multi-platform solution Packz, which enables the editing of PDFs while retaining the native file, the company has a prepress module that also enables quality control by means of a smart trapping function, among other things. All parameters are fully editable. Trapping can be done with a simple click, interactively and automatically. Other functions in the area of structured content include separation and colour profile handling, font and text recognition, barcode generation and recognition, image, graphic and external linking, object-based screening and curves with point control as well as definition of boxes and positioning. Templates for dynamic document design can be created and VDP can be integrated.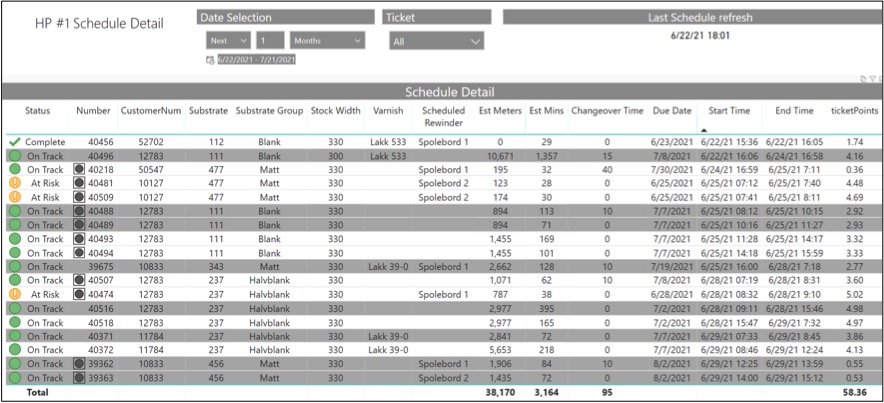 Label Traxx: MIS with end-to-end management
The software includes dedicated flexible packaging workflows for companies selling unsupported films, sachets and pouches by weight. The tools available help with accurate and consistent costing of flexible packaging as well as customised features specifically for order fulfilment. Siteline, an online interface, is a web portal that allows customers to order repeat orders, view product specification and order history. Furthermore, the tool enables the approval of proofs (also from mobile devices). Label Traxx can connect to HP's PrintOS and access the clicks and production details of the jobs in the system. These clicks are then included in the Label Traxx job cost analysis. Esko QuickStart for labels is also integrated with Label Traxx. QuickStart provides converters with prepress software that includes integrated workflows for flexo and digital. The predefined workflow with Label Traxx creates a bi-directional communication between the two systems. Herma integration: EPSMA barcode reel numbers from Herma are taken over by Label Traxx on receipt of goods, whereby the barcode can then also be used for reel tracking on the press.
Lewald & Partner: Order management
The software is a combination of order management and production planning. It can be connected to various shop systems. The label production module is designed for prepress and includes job entry, data preparation, production planning, a colour management system for press-specific colour space transformations and automatic job transfer to presses and die-cutters. The system outputs PDF or PDF and JDF data, which is sent to the relevant process steps or machines via an online approval system.

Nicelabel: label design and printing
Nicelabel is launching a label cloud, a label management system as well as designer and desktop solutions. The Label Cloud enables the central design and storage of labels. These can then be accessed from anywhere within the cloud. The labels can be integrated with the product data. As a Software-as-a-Service (SaaS) solution, companies can reduce their costs and print without local infrastructure. The Label Management System enables the standardisation of the labelling process on a single platform - cloud-based or local. Labels can be designed, reviewed, approved and managed in a central database. The label designer optimises the label design. Standardised label printing can be integrated into databases and business systems and, if desired, transferred to the entire supply chain. With the Designer and Desktop solutions, smaller companies in particular can design and print barcode labels. The label templates can be customised in a short time. No coding or advanced computer skills are required.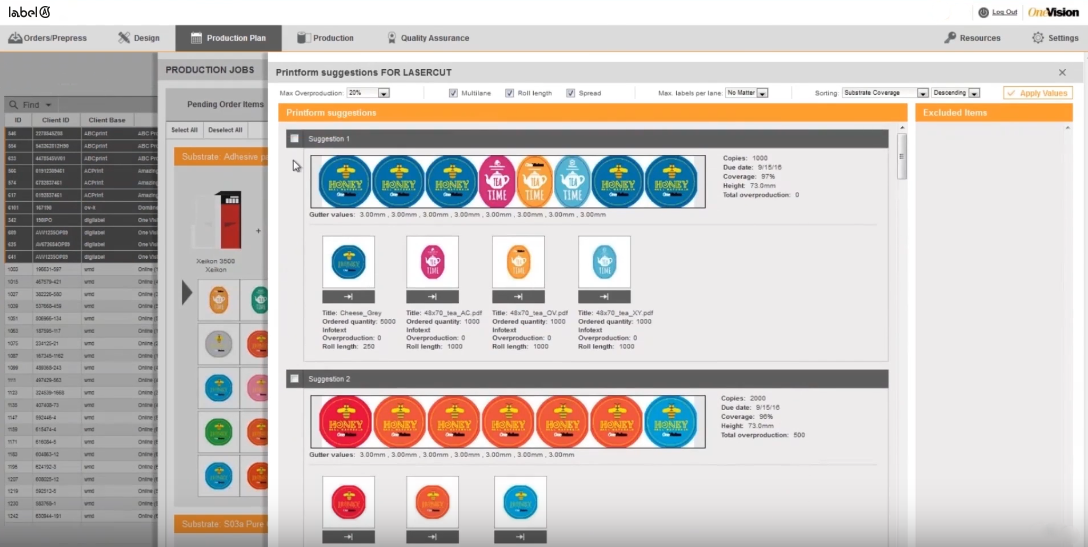 OneVision: Label Automation Suite
The Label Automation Suite acts as a bridge between MIS and RIP/DFE. It allows automated preparation of print and finishing data as well as production planning.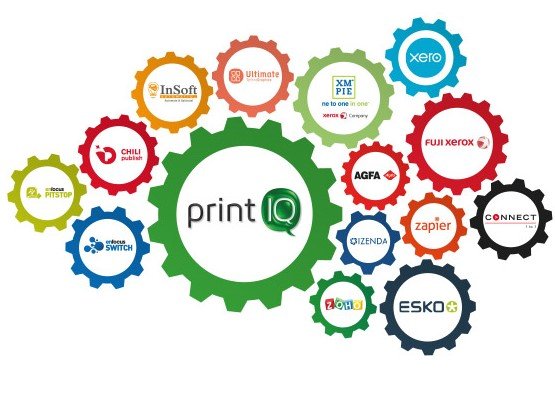 printIQ: Management Workflow System
The printIQ label functionality has been integrated into the Management Workflow System (MWS) as part of the printIQ core to meet all the specific requirements of a label printer. A total of eight modules are available. By adding a die library, advanced imposition control, custom size and shape calculator, it is possible to accurately calculate labels of all sizes. A custom die-cutting library can be created in printIQ, die-cuts can be configured with multiple levels of hierarchy and these can be labelled for easy search and selection within the costing process. Various pricing options, from sheet, linear metre, label, to name a few are possible. A web module provides for direct ordering by the customer. The Workflow Manager ensures transparent seamless workflow across all departments and can also inform customers of the status of the order if desired. The Factory Manager controls the production process and automates the order processes. Inventory Manager digitises stock management: all products can be categorised by manufacturer, location and type. Easy reordering, low material alerts are also integrated. The Outsource Manager has tendering functionalities whereby prices for services can be obtained in an easily coordinated workflow. The module offers the possibility to assign each operation within the order to several suppliers. Suppliers can enter their prices directly into their own automatically generated printIQ supplier portal. Supplier feedback and pricing is fed back directly to the outwork board via the integrated supplier portal. With the integrated MIS and ERP system expanded to an MWS, printIQ ensures complete mapping of all production processes, their control and analysis, whereby individual products can also be manufactured cost-efficiently.
Rogler: MIS and more
technoLogic is the name of the MIS module for the administration of master data, calculation and quotation, pricing, order management, electronic order bag, shipping support, invoicing, post-calculation and evaluation. In addition to this, there are other modules: the electronic planning board technoPLAN, the production data acquisition technoBDE, material management and storage location management technoLOGISTIX and the web portal technoWeb.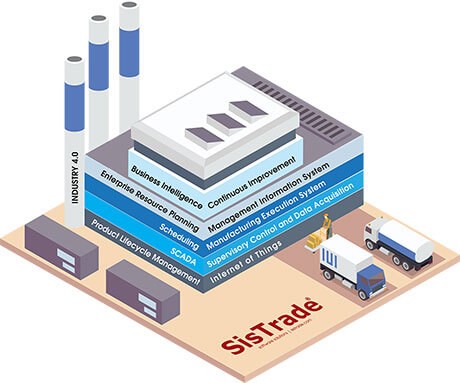 Sistrade: Parallel multi-tier process
An integrated MIS and ERP software solution which is automatically available in the latest versions. Recently, version 12.9 was introduced here. This offers a parallel multi-layer process with a clear definition, the internal process sequence integrated in the planning and data acquisition modules, and a complete reorganisation in the graphic process of flexible packaging for better visualisation of information and integration of the press management workflow. 180 changes, 48 per cent of which are new features and 52 per cent improvements, have been incorporated into the new software version. An intuitive and dynamic planning module makes it possible to identify changes in production at an early stage. Interfaces allow information to be accessed and viewed more easily and intuitively. The Sistrade Dashboard Builder allows users to create their own dashboards with KPI's in graphical or tabular form to monitor the progress of the entire sales, inventory or production process.
Starlogic: MIS and ERP
The order planning platform of the MIS/ERP solution can display the effects of planning changes. Users are automatically notified if a calculation cannot be made. Using the cloud-based software, everyone involved in the production process can access the software from anywhere and on any device. A graphical user interface is integrated.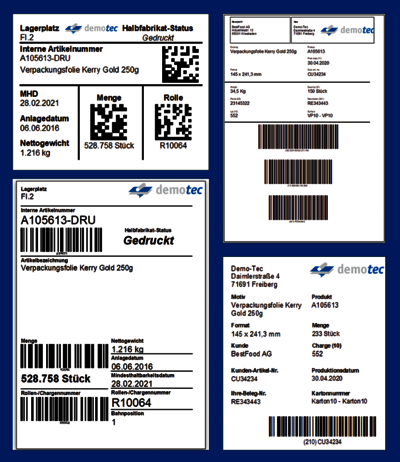 theurer.com: ERP and MIS software
C3, the name of the software package, is available in two versions, Standard and Enterprise. The modular software architecture enables step-by-step expansion depending on customer requirements. A quick start is made possible by the business templates, which are pre-configured by the company and can be customised as needed. Industry-typical master data, business processes as well as printouts and evaluations in C3 Label Printing are predefined, as are calculation templates for roll labels or flexible packaging. The comprehensive integrated ERP system has a dashboard with which the operating data can be accessed from anywhere (PC, mobile, tablet, etc.). In cooperation with robos-labels, the potential of digitalisation and Industry 4.0 is to be exploited in the long term. theurer.com intends to improve existing product components and drive forward the development of new functions - with the goal of a digitalised smart factory.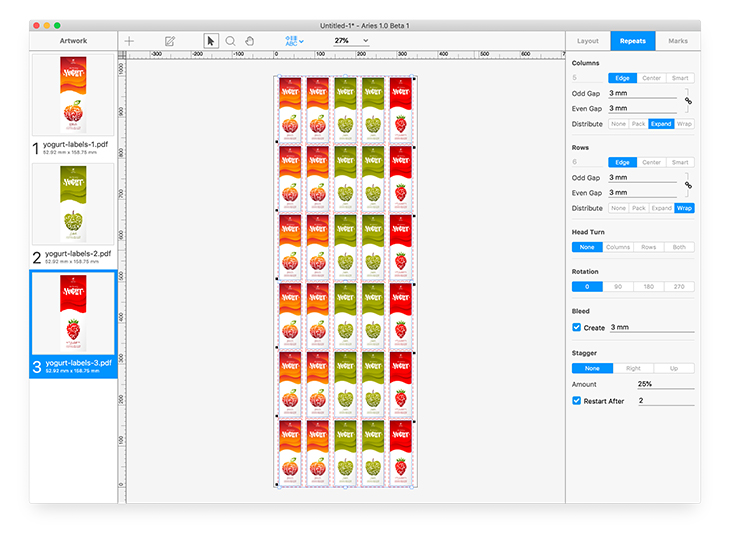 Tilia Labs: Central command centre
The software offers a central command centre for connection, management and collaboration for all orders, as well as a planning and imposition module for labels, packaging and more. The Helios module allows jobs, orders and digital content to be managed in one place. It provides environment integration and automation via public API and creates user accounts and roles. Together with Helios, the Phoenix module can take over scheduling tasks, impose orders and thus save valuable time. The module can also be used to create dynamic markings, such as barcodes. The software can be connected directly to an MIS and also transfer data there. For further processing, native PDF, JDF, PS, CFF2 or JSON can be output, so that RIPs, postpress, CAD as well as archives are served alongside an MIS.